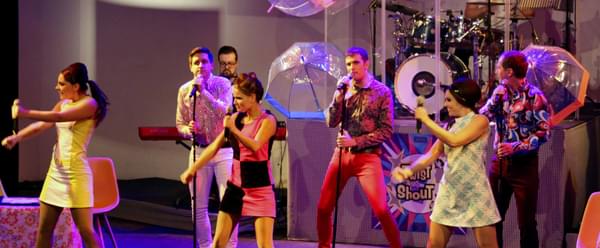 Twist & Shout
The fun-packed musical journey back to the Swinging Sixties returns in 2024!
About Twist & Shout
An all-star cast from the West End deliver a musical powerhouse of a show that starts with the explosion of Brit Pop in 1962 through to the era of Flower Power and Free Love of the late Sixties.
Music lovers are invited to return to a time when skirts got shorter and hair got longer as an incredible cast revive the hits of The Beatles, Stones, Kinks, Cilla Black, Tremeloes, Simon and Garfunkel, Dusty Springfield, Lulu, Sandy Shaw, the Mamas and the Papas and many more.
Superb performances and beautiful, bespoke costumes return us to the sights and sounds of the Swinging Sixties.
The non-stop, 40-song music feast includes She Loves You, Satisfaction, Waterloo Sunset, Shout, I'm a Believer, Ferry Cross the Mersey, All You Need is Love and so many more.
It's said that "If you remember the Sixties you really weren't there". Twist and Shout affords the opportunity to discover just what you missed!
"THIS IS A TRULY MAGNIFICENT, HEARTWARMING SHOW WITH AN OUTSTANDING TALENTED CAST. GO AND SEE IT! I PROMISE IT WILL CHEER YOU UP. I'M GOING AGAIN."

Midlands Theatre Guide
Further content for Twist & Shout