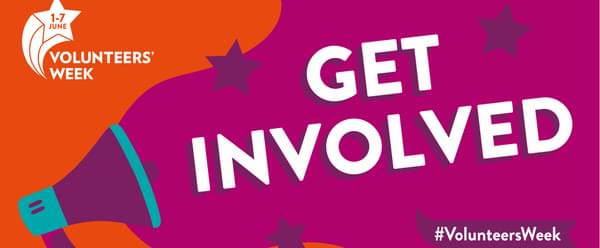 A Thank You to Our Volunteers
News
30 May 2023
News Story
National Volunteers Week - 1st – 7th June 2023
From greeting you as you walk through our doors, serving you that morning brew or checking your tickets as you enter the auditorium in anticipation of that big night out you've been waiting for – our volunteers are at the heart of supporting our audiences and communities.

You may not know this, but we have a team of over 60 incredible volunteers supporting the venue and external groups, in which we could not operate without. For this, we say an enormous thank you to each volunteer that enables us to keep our venue thriving.
The world shifted in 2020, we lost audiences and volunteers alike. As we re-opened our doors under the constant changing of circumstances, our small team of volunteers at the time supported us in our shared aim of reconnecting audiences. We are so grateful and thank them for their patience and dedication during such a complex period.
Since 1st January 2023, the team have donated a whopping 2,305 hours of their time, in less than five months, which equals over a staggering £23,000! Due to this, we are further enabled to support the venue and fund our community and youth programmes.
This year we relaunched the volunteer scheme with a package consisting of a complimentary Friend Membership worth £50, retail discounts, plus bi-annual social events. This Sunday 4th June, we celebrate National Volunteers Week for the first time by hosting an afternoon tea in aid of The Roses volunteer team.
There are many reasons why people volunteer with us. Whether that's to connect with like-minded people, create new social circles or to support their local arts venue because they have a passion for creativity – we thank them all. We couldn't do it without you.
Written by Georgia Shire
Get Creative Coordinator / Volunteer Manager

The Roses Volunteers
Helen Mcilvaney
Maggie Brewer
Dave Brotherton
Shirley Barnett
Ruth Edgings
Nicola Joy
Elaine Paddock
Barrie Nicholas
Neil Blencowe
Jeanette Blencowe
Sophie Franklin
Lynette Woolridge
Sharron Smail
Alan Savage
Liz Taylor

Angela Conway
Sharon Rowles
Cathy Leslie
Alan Goodall
Gill Green
Gail Hutt
Jennie Sheringham
Maggie Shelton
Ruth Elmer
Julie Field
Carrie Seaton
Julie Cash
Yani Webb
Paula Stubbs
Lesley Offer

Rose Marris
Anne Crawford
Mary Utterbridge
Tania LeBourgeois
Fran Valentine
Iris Brown
Brian Farmer
Joy Careless
Hilary Nicholson
Mike Nicholson
Dors Horsfall
Alan West
Pam Lear
Helen Smith
Jennie Maclean

Sandra Northcott
Marian Jones
Pippa Howse
Chris Thomas
Katye Drinkell
Pauline Ashcroft
Lin Parson
Alison Jenkins
Janet Lines
Claire Askin
Win O'Donavon
Dave Coffey
Esme Whistler
Chez Cleaton