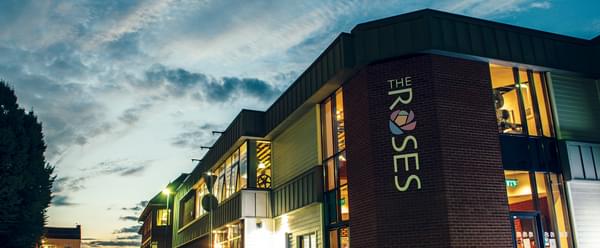 Culture Recovery Fund to help The Roses improve facilities
News
31 Jul 2023
News Story
We are thrilled to share some exciting news with you!
From 31st July to 11th August, our box office will be open for reduced hours, from 10 AM to 2 PM weekdays and 10 AM -1 PM on Saturday. During this time, please note that all other public spaces in the building will be temporarily closed.
Last year, we received some funding from The Government Culture Recovery Fund, which has been instrumental in supporting our theatre after the challenges posed by the pandemic. We are immensely grateful for this support and the unwavering encouragement we've received from the entire community since our reopening after the Covid period. Your support has been invaluable, and we truly couldn't have come this far without each and every one of you.
We are pleased to announce that this funding was provided to us specifically to enhance our public and hospitality sectors through a partial refurbishment. If you've ever attended a busy show at The Roses, you are likely familiar with the challenges we faced concerning space and queuing for refreshments, which sometimes hindered accessibility and access to the toilets. With our new layout, we aim to rectify these issues and provide a more seamless and enjoyable experience for all our guests. This has been part of a wider update of the venue's resources to improve customer experience and make our services more accessible to everyone.
One of the major improvements will be the addition of a downstairs bar. Alongside our existing upstairs bar, this new addition will significantly enhance the speed of our service. We're also undertaking renovations upstairs, adding a new kitchen which allows us to offer a wider range of delicious food options to enhance the experience for all attendees of our live events.
We cannot wait to welcome you back to our newly improved building soon! Your continued support means the world to us, and we are committed to providing you with the best possible theatre experience.
The Roses Team