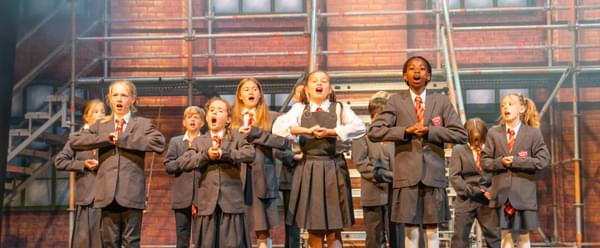 Roses Young Creatives registration opens for 2023/24
News
1 Aug 2023
News Story
RYC (Roses Young Creatives) offers weekly sessions every Tuesday, between 4 -9pm during term time. These sessions are open to participants in School Years 1 to 13 who are split across five groups. We are incredibly lucky that these sessions take place on The Roses Stage. It is an exciting and valuable resource that many young companies or youth theatres don't have access to, allowing our participants to thrive and gain more stage experience than a traditional youth theatre.
In addition to drama, dance and singing, The Roses delivers unique weekly sessions surrounding other aspects of the creative industries. This may include directing, producing, costume design, set design, lighting and sound engineering… plus more! Across the year the programme will offer specific sessions tailored to our young creatives and delivered by industry professionals from across the UK. In order to further develop stage skills, The Roses offer numerous performance opportunities across the year in order to produce well rounded creatives.
Performance opportunities in 2023/24 at The Roses include:
Christmas Cabaret Fundraiser
Summer Musical (show title announced in October)
Other opportunities may include:
The Roses' Get Creative Showcase
The Roses' AGM
Tewkesbury Christmas Light Switch On
After the closure of the previous Community and Education department, "Take Part" in 2020, following the impact of the global pandemic, the newly formed Get Creative department was launched in September 2022. The Roses relaunched its flagship youth programme, Roses Young Creatives, later that year in hopes to exceed the reputation of its previous programme and successful alumni.
Since commencing in November 2022, RYC has engaged with over 50 young people in its first nine months, with 42 participants performing in two sold out shows of Matilda Jr on Saturday 8th July 2023 at The Roses.
To ensure this programme is accessible, we have a limited number of full and part bursary spaces available. The Roses is looking for sponsors to support more bursary places. Please get in touch with our Development Manager [email protected] for more information.
RYC is perfect for an enthusiastic young person that would thrive from using performing arts to develop transferable skills and create invaluable friendships.
Registration for RYC 2023/24 open on Tuesday 1st August 2023.
To register: https://form.jotform.com/232003823421037
To book a FREE taster session: https://form.jotform.com/230604054210034
To apply for a bursary: https://form.jotform.com/232003460840039
Find out more on our website: Roses Young Creatives | The Roses (rosestheatre.org)
Contact Details
Georgia Shire – Youth and Education Producer
T: 07732 244217
The Roses Theatre Trust, Sun Street, Tewkesbury, Gloucestershire, GL20 5NX
"Thank you to you and your team for all the hard work and for giving our children the confidence to perform on such a big scale. (participant) absolutely loves Young Creative's and can't wait to come back in September."

RYC Parent
"You have inspired a future cast of stars"

RYC Parent