Roses Young Creatives
Join us at Roses Young Creatives where we build our participants' confidence, develop their skills and nurture young talent in Gloucestershire through performing arts.
In addition to drama, dance and singing, we aim to deliver exciting weekly sessions surrounding other aspects of the creative industries. This may include directing, producing, costume design, set design, lighting and sound engineering… plus more! Across the year we offer specific sessions tailored to our young creatives and delivered by industry professionals from across the UK. In order to develop stage skills, we offer numerous performance opportunities across the year in order to produce well rounded creatives.
Performance opportunities in 2023/24 at The Roses include:
Christmas Cabaret
Summer Musical (show title announced in October)
Other opportunities may include:
The Roses' Get Creative Showcase
Tewkesbury Christmas Light Switch On
If you know a young creative that would thrive from using performing arts to develop transferable skills and create invaluable friendships, you can register or book a free taster session!
Sign up now closed!
Registration will re-open January 2024

| Age Group (School Year) | Day | Time | Price |
| --- | --- | --- | --- |
| Beginners (Years 1 & 2) | Tuesdays | 4pm - 5pm | £8 per week |
| Juniors (Years 3 & 4) | Tuesdays | 5pm - 6pm | £8 per week |
| Intermediates (Years 5 & 6) | Tuesdays | 6.30pm - 7.30pm | £8 per week |
| Seniors & Company (Years 7 - 13) | Tuesdays | 7.30pm - 9pm | £9 per week |
Term Dates
Term 1: w/c 18th Sept 2023 – 18th Dec 2023 (13 weeks) | Beginners - Intermediates= £104 | Seniors & Company= £117
Term 2: w/c 8th Jan 2024 – 18th March 2024 (10 weeks) | Beginners - Intermediates= £80 | Seniors & Company= 90
Term 3: w/c 8th April 2024 – 15th July 2024 (14 weeks) | Beginners - Intermediates= £112 | Seniors & Company= £126

Get to know our RYC Team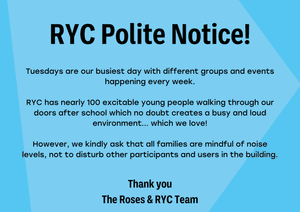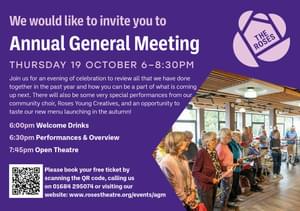 Other Useful Links