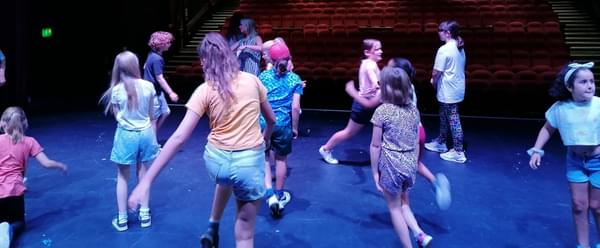 Roses Young Creatives launches FREE half-term taster sessions
News
18 Oct 2022
News Story
An exciting new initiative for budding actors, directors, screen writers and all-round performers launches this half term in Tewkesbury.
The Roses Young Creatives (RYC) is a new project for young people in the local area who would like to explore a variety of skills from acting, singing and dancing to filmmaking and script writing.
The free taster sessions, for ages 5 to 11 and 12 to 25, will take place at community venues in Northway, Twyning and Wheatpieces across October half-term, offering an opportunity for young people to explore their creativity and make new friends.
Georgia Shire, the newly-appointed Get Creative Coordinator for The Roses said: "Our new Roses Young Creatives programme is for absolutely everyone – whether you want to be a performer or not. Come and have fun, meet new people, and learn some great skills along the way!"
"There's no audition, you do not have to be a performer already, just love to be creative and enjoy working in a group."
One of the important aims of the programme will be to help young people to develop their confidence, build relationships and increase their self-esteem.
"Performing, drama games and physical theatre are wonderful tools to boost self-confidence and provide young people will the tools to better support their own mental health," says Georgia.
There's no commitment from these sessions to join up to an ongoing programme but, if you are interested this is a great opportunity to meet the Get Creative Team from The Roses. We are very excited about the new project, which will run over a two-year cycle and include the production of a stage show and a feature film.
"Our young creatives will experience an array of techniques and opportunities from performing on stage to being behind the camera, with support from professionals with industry expertise and insight."
And for those who are considering a career in the creative industries, we are building on the reputation of The Roses previous Take Part initiative, where former participants have gone on to perform at the Royal Opera House, Sadlers Wells and in theatre and TV productions including Harry Potter and The Cursed Child, Matthew Bourne's Swan Lake and Peaky Blinders.
"I'd say that our aim is very much that RYC will offer a stepping stone to exciting career possibilities too!"
The half term taster sessions will feature games, improvisation and devising, ahead of the start of the Roses Young Creatives programme this autumn.
To sign-up for the Roses Young Creatives sessions or for more information about the new weekly programme, email [email protected]
Dates and venues
Northway Community Hub:
Monday 24 October
10am - 11.30am (Ages 5 - 12)
2pm - 4pm (Ages 13 - 25)
Twyning Village Hall:
Wednesday 26 October
10am – 11am (Ages 5 - 12)
11am - 12noon (Ages 13 - 25)

Wheatpieces Community Centre:
Friday 28 October
12.30pm - 1.30pm (Ages 5 - 12)
2pm - 3.30pm (Ages 13 - 25)