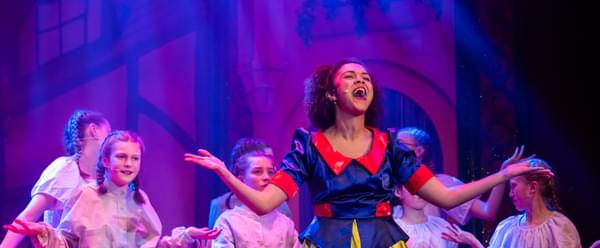 Snow White is a bestseller!
News
26 Dec 2022
News Story
Oh yes it is! This year's pantomime at The Roses Theatre in Tewkesbury has broken its box office records with sell-out performances that will help to ensure the future of the theatre in 2023.
The classic tale of Snow White, brought up-to-date by BAFTA-winning writer, Maurice Gran (Birds of a Feather, The New Statesman) and Nick Wilkes (the Almost series), has amused generations from across the county over the last month, with a clever, laugh-out-loud script featuring an over-talkative interactive mirror, a troupe of high-spirited children toiling in Queen Malvinha's silver mines and a joyous romance between IT guru Ted and eco-warrier Jim.

According to The Roses Head of Marketing and Programming, Caroline Lawrence, the success of this year's panto was even more critical after two years of sales affected by Covid shutdowns.
"Snow White It has been our best-selling pantomime ever! We are all quite stunned – it was difficult to predict how this year was going to pan out but Snow White has exceeded our wildest expectations," said Caroline.
"A great panto needs a cast that genuinely get on well and have fun together on stage, bright and colourful costumes and sets, near constant music and dancing, and a sharp and witty script. This year's show has had it all, including a superb children's chorus - this incredibly talented group of local young people have been the icing on the cake!
"The financial impacts of Covid on the last year's panto and our box office in 2020 were fairly disastrous to put it bluntly. The arts industry was the first to shut down in early 2020 and among the last to reopen in 2021. We were able to put on a socially distanced show in December 2020, and we did manage a whole run of King Arthur in 2021, but sales hadn't fully recovered by then, and we were grateful to receive funding from the Government's Culture Recovery Fund to plug the gaps," added Caroline.
"Pantomime is absolutely crucial for all theatres, not just The Roses with the income from the festive season sustaining us throughout the quieter summer months when the industry slows down a bit."
"This venue is so much more than just a stage or screen. We are home to many community groups and clubs and for some people, a trip to a group here is the only time they will leave the house that week."
"Venues like The Roses also have a huge impact on the local economy – an economic impact study a few years ago showed that our visitors collectively spent over a million pounds in local shops and restaurants that year, so ensuring the sustainability of The Roses is so important."
Jolyon 'Jon' Dixon made his Tewkesbury debut this year in the role of the flamboyant dame, Nanny Mac, joined on stage by Georgia Mann as Snow White, Tracy Collier as queen Malvinha, Elliot Wooster playing Jim and Murray Andrews as Ted and Reflexa, the magical mirror.
The show continues until 31 December with seats still available for some performances. And for anyone looking to book ahead, the 2023 panto, Beauty and the Beast written by Miranda Walker, has just been announced.